Lottery Syndicates Explained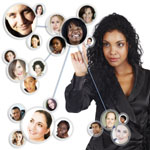 What are lottery syndicates and how do they work?
A syndicate is a group of individuals, institutions or other entities created to carry out a particular business as they pursue a common goal. A lottery syndicate therefore refers to a group of people who gather and pay a certain amount of money which is used to buy their lottery tickets. Syndicates are made up of various categories of people, e.g., family members, work colleagues, neighbors, etc. All members of the syndicate must be lawfully eligible to participate in the lottery. If a syndicate member's ticket wins the lottery, the money is shared equally among all members.
It's important to consider the number of people a lottery syndicate has before joining it. The more the members, the less the amount of money the individual gets. When forming a syndicate...
Article continued on: Buying Lottery Tickets
"Lottery Syndicates Explained" User Comments
No comments posted yet.
get your
Free Lotto Ticket!