Lotto 6/49 Review - Canada's National Lottery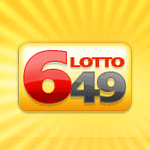 How does Lotto 6/49 work? Read about the Canadian national lotto game.
Known as the game that changed the way to bet on lotteries in Canada:
LOTTO 6/49!
It runs all Wednesdays and Saturdays. Players can
buy lotto tickets
and become winner of glorious jackpots! The most attractive ones start at 3.5 million dollars, rolling over each week if there are no winners. The prize has been known to climb up to 54 millions!
Here's how it works:
The player must choose 6 numbers from 1 to 49. There is a draw of lots for seven balls at random, the first 6 numbers form a winning combination and the seventh ball represents the bonus number. There are 6 combinations to win prizes in different categories and by only hitting 2 balls and the bonus number the player can already win a prize!

"Lotto 6/49 Review - Canada's National Lottery" User Comments
No comments posted yet.
get your
Free Lotto Ticket!