Avoid Becoming a Victim of a Lotto Scam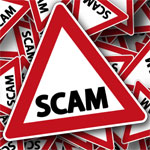 Follow these few tips and you should never get caught in a lottery scam.
In this day and age, you have to be careful about a lot of things, including lottery scams. On this website, we only offer lottery tickets that are licensed by the government, but unfortunately, there are numerous of individuals out there with negative intentions, as they are seeking to defraud lottery players like you in different ways.
To avoid lottery fraud, whenever you receive an email or call requesting your personal information, do not respond, but do go the extra mile to report the incident because you don't want others to become a victim of a lotto scam. Another thing that you should be aware about is if someone contacts you to notify you that you have won a prize in a lottery game--if you don't remember entering it, it is definitely a lottery scam...
Article continued on: Buying Lottery Tickets
"Avoid Becoming a Victim of a Lotto Scam" User Comments
No comments posted yet.
get your
Free Lotto Ticket!